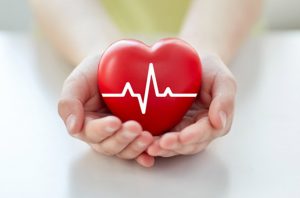 February is American Heart Month, meaning that it's the perfect time to begin keeping tabs on your cardiovascular health and ensure that your ticker is in good shape! But did you know that by taking great care of your pearly whites, you can vastly influence the well-being of your heart? Here's more from your dentist about how oral and cardiovascular health are linked and how you can best ensure that both your heart and your smile are happy and healthy.
The Link Between Oral & Cardiovascular Health
The connection between your smile and your heart mainly has to do with the potential impact of untreated gum disease. Studies show that people with periodontal disease are at an increased risk of all kinds of health problems, including cardiovascular disease.
This is because of what gum disease can do to your body if left unaddressed; the infection causes inflammation that begins in the gums but is capable of traveling throughout the body with the help of your bloodstream. Since your heart is responsible for your blood flow, needless to say, it's an ideal target for these bacteria! In fact, it's estimated that you may even be at a two to three times greater risk of having a heart attack or other serious heart problems if you have gum disease.
Tips for Protecting Your Smile and Heart
If you want to protect your heart, it starts with maintaining your oral health. By actively preventing gum disease and taking other measures to lead a healthy lifestyle, you'll reduce the likelihood of experiencing a heart attack or some other type of cardiovascular issue. Consider the following tips:
Brush your teeth twice a day for two minutes each time, using a soft-bristled toothbrush coupled with fluoride toothpaste.
Floss daily; flossing is just as important as brushing and is invaluable in the ongoing fight against gum disease.
Use an antibacterial mouthwash regularly to rinse out any harmful bacteria you might've missed while brushing and flossing.
If you smoke cigarettes or use tobacco products, kick the habit!
Be mindful of your diet and regularly consume healthy options like fruits and vegetables, lean proteins, low-fat dairy products, and other items that promote good oral health.
Routinely visit your dentist for preventive care! They'll be able to check your smile for any signs of gum disease and recommend treatment if necessary.
Your heart is arguably the most important organ in your whole body—it's the motor that keeps things moving! That said, you should aim to protect it by taking strides to maintain a healthy mouth and prevent periodontal disease.
About the Author
Dr. Richard F. Fossum has proudly served patients and families in the Temple, TX area for several years. Dr. Fossum received his dental doctorate from the University of Texas Dental Branch – Houston and is a member of the American Dental Association, the Texas Dental Association, and the prestigious Academy of General Dentistry. If you have any questions about the article or want to arrange a visit, don't hesitate to contact Dr. Fossum through his practice's website or over the phone for assistance: (254) 778-3900.