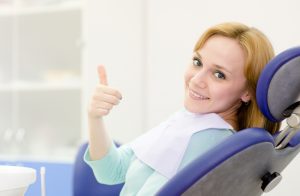 You can get pretty much everything you need off of the internet these days. Previously, you could only have fun things like movies, books, and pizza delivered, but now you can buy just about anything. With only a few key strokes, a battalion of people getting their master's degrees will instantly be at your door with groceries, toiletries, and probably a hot meal. One thing, however, that you can't get through the internet is dental care–you still need to venture out into the world to take care of you and your family's teeth. The question then is, how should you choose a dentist in Temple? You'll literally find thousands of practices online, and it can be a bit overwhelming. Today, we're going to make that choice nice and easy for you. Here are the 4 big things you should consider when choosing a family dentist in Temple.
1. See What Types of Patients They Serve
This is a very important question if you are looking for a dental practice not just for yourself, but your whole family as well. Do they serve patients like you? Do they have experience with children? Can they help older patients who need their teeth replaced? Dr. Richard Fossum, Dr. Brooke Elmore, and Dr. James Edmondson of the Fossum Dental Group can happily answer yes to every question. They have experience with patients of all ages and can effectively treat your entire family at either one of their 2 practices.
2. Look At Their Services
Your teeth may have many different needs as time goes by, and you want to find a practice that will be able to treat you no matter the situation. This is exactly why the Fossum Dental Group offers a wide variety of preventive, restorative, and cosmetic procedures. Whether you need a simple check-up, have a tooth that needs to be repaired, or simply want your smile to look its finest, they can take care of you.
However, unlike many other practices, their range of care goes well beyond these routine treatments. They can treat patients suffering from sleep apnea and even provide relief for those suffering from chronic jaw pain or unconscious teeth grinding. Also, Dr. Fossum and Dr. Elmore's practice is one of the few in the area that is able to complete the entire dental implant procedure in one location, including both placement and restoration. This makes their practice the premier place in Temple to permanently restore your missing teeth.
3. Read About The Doctor
Of course, you want to consider the training and experience of your dentist in Temple, and luckily for you, the Fossum Dental Group has 3!
Dr. Richard Fossum began practicing dentistry in New Mexico, but he came to Texas as soon as he could! He received his DDS degree from the University of Texas Dental Branch in Houston in 1995 and continues to take numerous continuing education courses to improve himself so he can better serve his patients.
Dr. Brooke Elmore graduated from the University of Texas Health Sciences Center at San Antonio Dental School in 2007. She has received specialized training in implant dentistry and enjoys helping people make their smile whole again. She is also currently an in-demand educator and continues to periodically teach at the Georgia Health Sciences University College of Dental Medicine.
Dr. James Edmondson is the newest addition to the group, but proudly has the most experience. He graduated from the University of Texas Dental Branch in Houston in 1970 and enjoys serving Texas smiles so much that he has postponed retirement. He has seen and done it all in the field of dentistry and loves using his vast breadth of knowledge to help his patients every day.
4. Check Out Their Location
Firstly, you want to make sure the practice is actually in your area. If you live in Temple, you wouldn't want to visit a dentist in the center of Austin, no matter how qualified they may be. You should also visit the actual office just to get a feel for the practice. Does it look inviting from the outside? When you go inside, are you greeted at the door, and does the office make you feel comfortable? These gut-reactions are often very telling, and can reveal a lot about how you really feel about a practice. Fortunately for you, the Fossum Dental Group actually operates 2 different practices in Temple, making it easier for you to find the one that works best for you.
Want To Know More?
If you follow all 4 of these simple tips when looking for a dental practice, we're sure you'll see why the Fossum Dental Group is the right team to take care of you and your family's smiles.
If you'd like to know more about everything the Fossum Dental Group can do for you, or if you want to schedule an appointment at either of their practices, please call today. We're happy to make your search for a dental practice easy and hope to meet you soon.