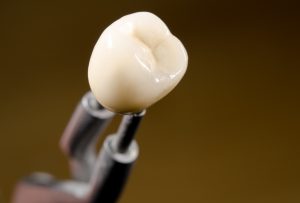 A single dental crown is the most widely performed restorative procedure because of its versatility. Your dentist in Temple can use the restoration to repair a significantly damaged tooth to save it from extraction. The custom-made cap improves the health, appearance, and function of a tooth; however, it can be used along with other treatments as well, like a dental bridge. Despite the benefits, it's normal to be concerned about paying for a crown, but there isn't any reason to worry if you have dental insurance. Here are 4 reasons to get a crown before the end of the year.
1. Your dental insurance can lower the cost.
Various factors affect the cost of a crown, but they typically range from $900 to $1,700 per tooth. Your dental insurance can reduce the amount you pay out-of-pocket. If your crown is necessary for your dental health, your policy can cover 50% to 80% of the cost after reaching your annual deductible. You can maximize your dental benefits to rehabilitate your smile without breaking the bank.
2. Reduce your long-term dental expenses.
According to a recent survey, 13% of people avoid dental care because of the cost, even though it will lead to a higher bill down the road. If you wait too long to treat your tooth, you might lose it. Instead of paying for a dental crown, you'll need a bridge or dental implant to lower your risk of cavities, gum disease, and additional missing teeth. Your dental insurance may not cover as much of the cost for major restorative treatments, like a dental implant. You can avoid unnecessary expenses and irreversible damage to your smile by utilizing your coverage.
3. Dental benefits don't last forever.
Your dental insurance benefits don't last forever. They expire at the end of the year. Anything you haven't used won't carry over into the following year. Not to mention, you won't be reimbursed for your premiums or deductible if you don't reach your yearly limits. With only 2.8% of Americans meeting or exceeding their annual allowance, you could lose hundreds to thousands of dollars that could have been spent on saving your tooth.
4. Avoid a dental emergency.
If your dentist recommends a dental crown, it's likely because your tooth is vulnerable, placing you at risk of a dental emergency, like a fracture or infection. You may not expect to find yourself in this situation, but 1 in 6 Americans has a dental emergency annually. Depending on your policy, your dental insurance may not include emergency coverage, so you'll be responsible for the entire bill.
Don't wait until it's too late to get your crown. Maximize your dental insurance before the year ends.
About Dr. Richard Fossum
Dr. Fossum earned his dental degree from the University of Texas Branch in Houston before continuing his training in new procedures, technologies, and safety standards. He is a member of various professional organizations and in-network with multiple dental insurances, including Aetna, Delta Dental, MetLife, and many more. Contact our office today to schedule your consultation for a dental crown.